Over two years ago, we started building PathoPlatform – a simple website for sharing and displaying histopathology scans. Since then, we have talked to hundreds of our users, and we realised that there are so many things we could integrate with our platform to improve and simplify cancer diagnostics and medical second opinion – handling radiology scans, macroscopic images, reports, medical organization workflow, combining IHC with H&E etc. To cover all of these we started building a new platform almost from scratch. Extensible to handle more and more file types and workflows. Flexible to configure the interface optimally for every particular use case. It's no longer called PathoPlatform, as not only pathologists can make use of it. Say hello to CancerCenter.AI Platform!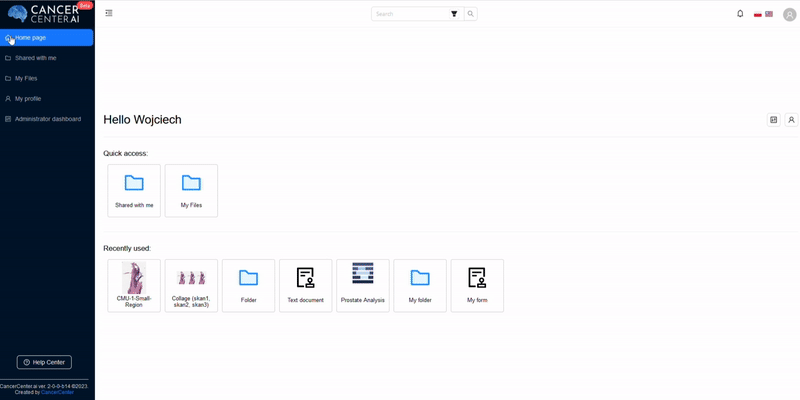 New Look, Better Interface, Improved Performance
First and foremost, the new version introduces a refreshed, modern look. The interface is now even more intuitive and easier to navigate. In addition to aesthetics, we have also worked on performance. As a result, pages load faster, and operations are smoother.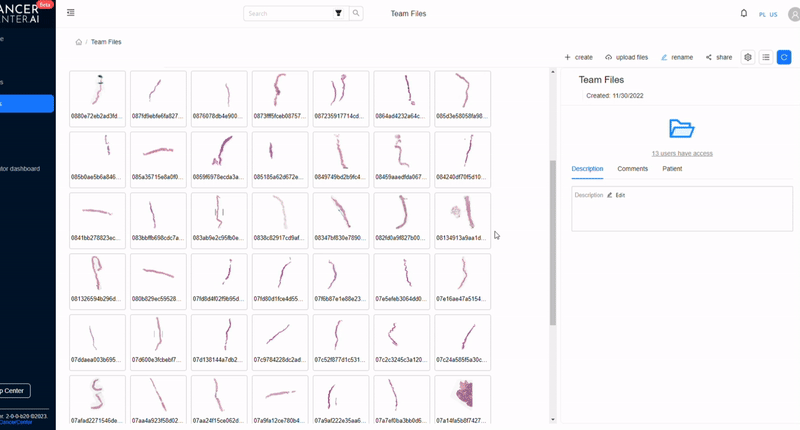 New File Browser
Version 2.0 introduces a completely new file browser. Users now have the option to choose between a tile view and a list view, providing greater flexibility in managing and browsing files. The file upload process has also been improved, making it easier than ever to add and manage files. Enhanced search and pagination result in significant performance improvements.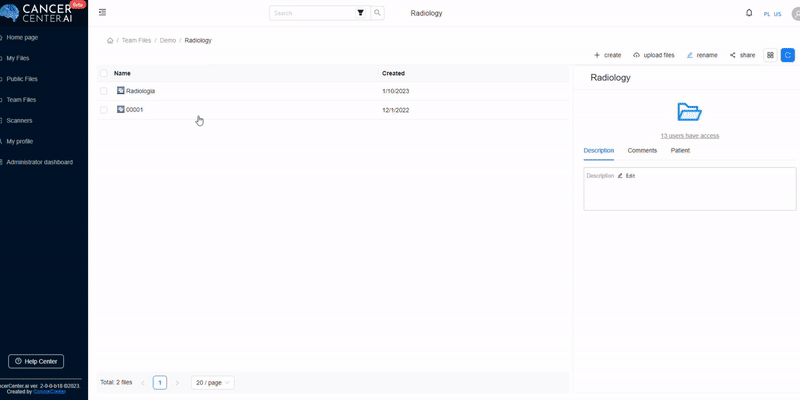 Radiology Viewer
From now on, our platform offers the ability to view radiology images.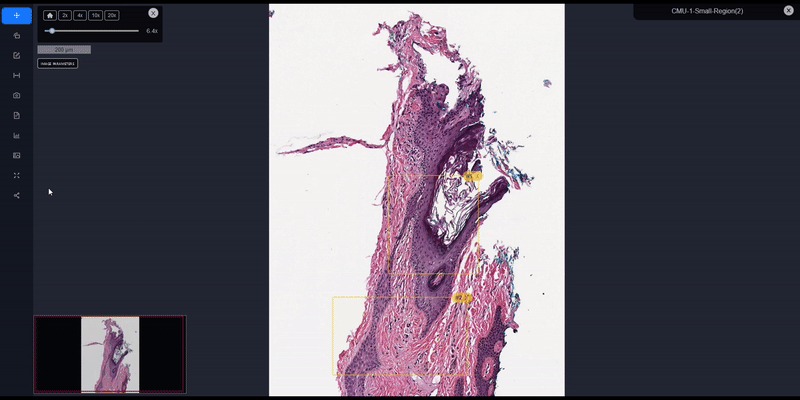 New features in the Histopathology Viewer
Version 2.0 introduces new functionalities to the histopathology viewer, such as rotation, full-screen mode, brightness, contrast, and gamma adjustment, and others.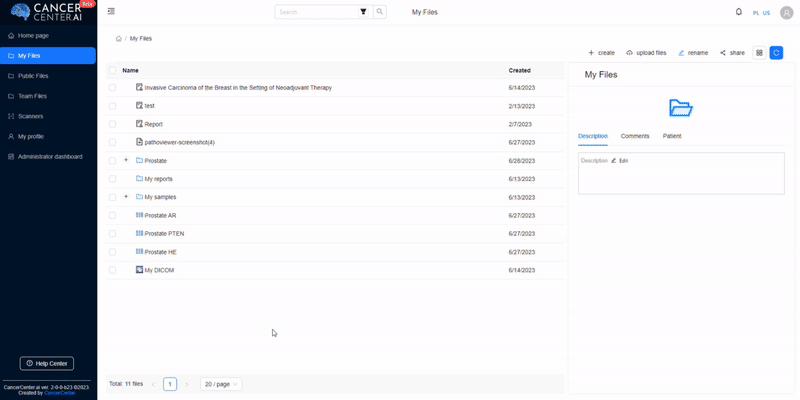 Parallel viewing
Now users have the ability to simultaneously display and analyze two or more files in a single window. This feature enables easy comparison and analysis of different versions, increasing work efficiency and enabling faster decision-making.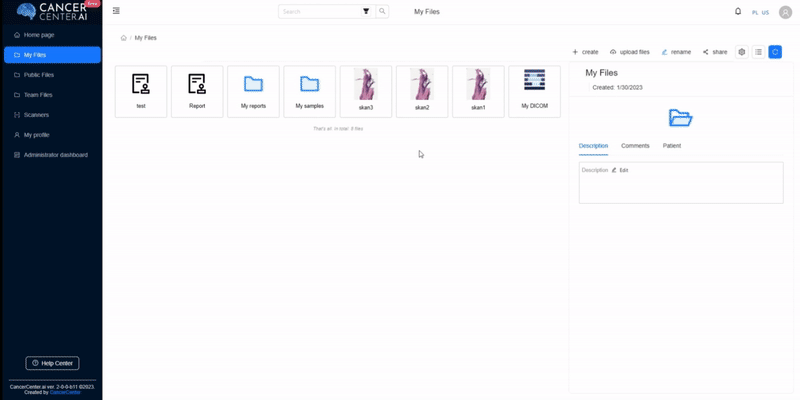 Improved Reporting Features
We have introduced the ability to independently add interactive reports and include multiple reports for analysis. We continuously implement new standardized ICCR reports. There is also the option for us to implement any custom reports according to your needs.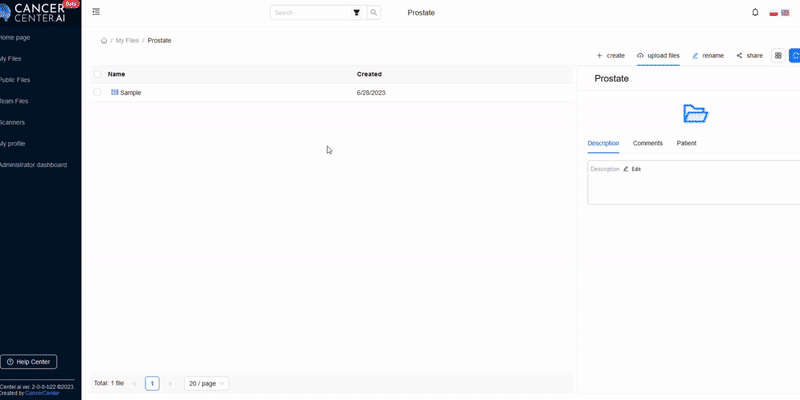 Collage Feature
The new collage feature allows for uploading multiple histopathological scans/images into a single file. This new functionality can be particularly useful for faster data analysis, as it enables the consolidation of multiple scans/images for easier comparison and examination.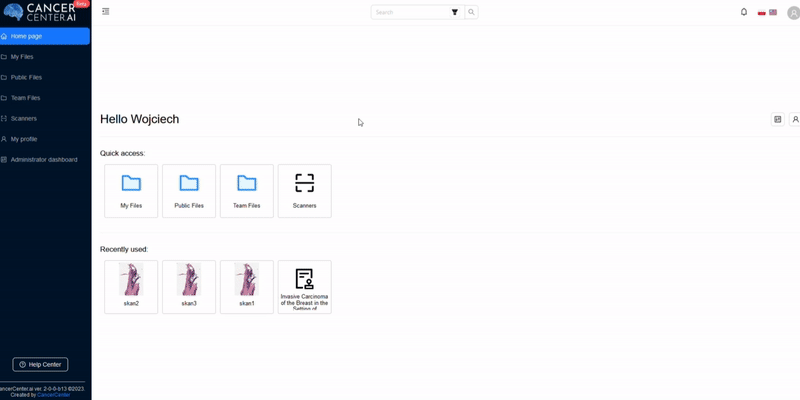 Integration with Scanners
The platform is now ready for integration with scanners, enabling direct scanning of documents into the system, increasing efficiency and saving time. We currently have native integration with Grundium scanners and any other scanners through our dedicated software – CancerCenter.ai Scanner Link.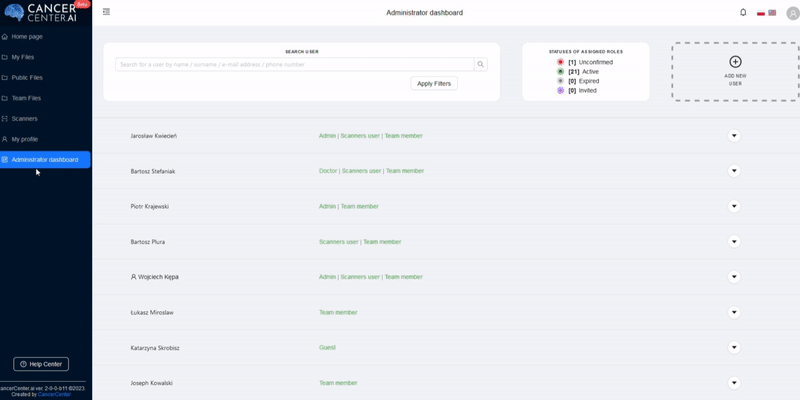 Administrator Panel
We have updated the administrator panel by adding more tools for managing platform users within an organization. This allows administrators to assign/deactivate roles and invite users to specific roles on the platform. These enhancements provide greater control and flexibility in user management.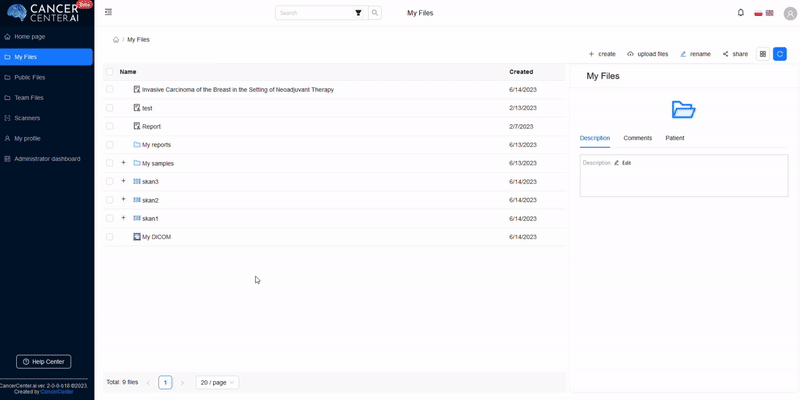 File sharing
From now on, there is the option to view shared files without the need for logging in. Simply select the appropriate option during the sharing process.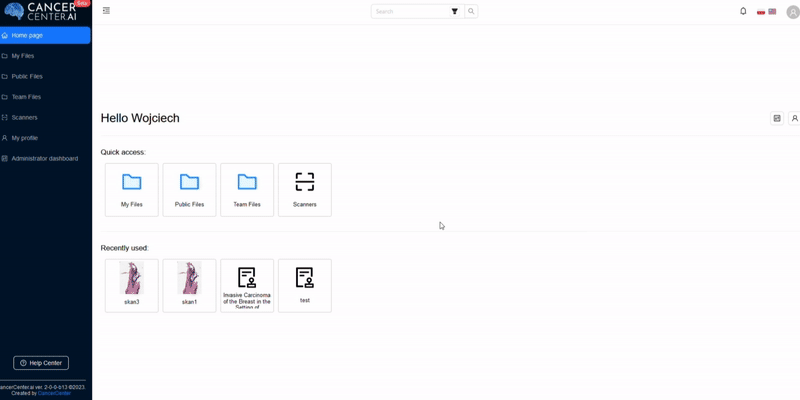 Help Center
We have made communication with us even easier. You can now reach out to us through our Help Center. This centralized support system is designed to streamline the process of getting in touch with our team for any assistance or inquiries you may have.
Integration with Mobile Devices
The new version is now fully integrated with mobile devices. Whether you are using a smartphone, tablet, or laptop, our platform runs seamlessly across all devices. You can enjoy a smooth and optimized user experience regardless of the device you choose to access the platform on.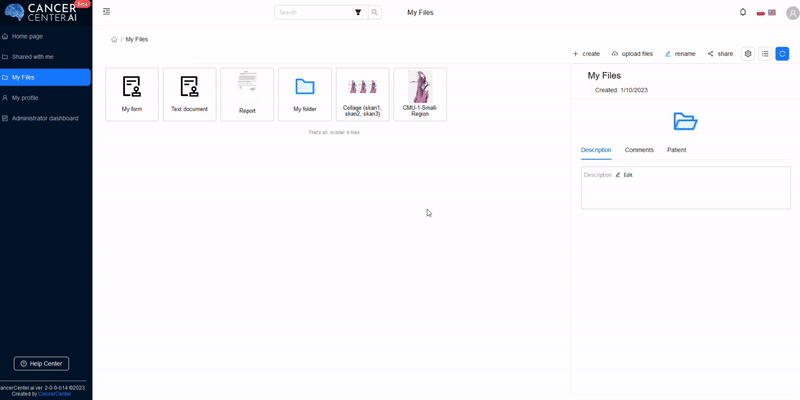 Embed it on your website
For easier sharing and integration with other platforms, version 2.0 now allows embedding a specific sample on your website.
We can't wait for you to experience the difference. So, dive in, explore, and see firsthand how our platform can accelerate and elevate your daily tasks. See you on the platform!